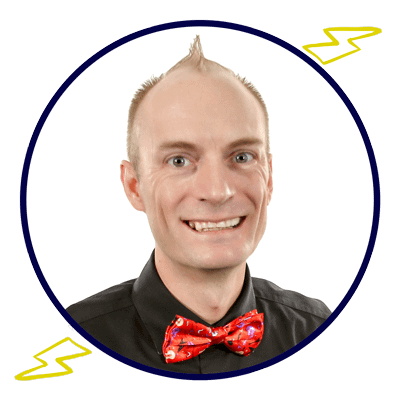 The Man Behind The Spaceship
Who is Rockit Richee?
Rich Sater, better known by his alias Rockit Richee, is a professional Musician & Music Educator that writes, records and performs original and traditional children's music! Always wearing a colorful bow-tie and mini mohawk: he performs with a highly energetic and youthful style that makes children want to dance, jump and sing!
Rich's musical journey began when he was a young child. Both of his parents loved to sing and made sure music was playing in the house since he was a baby! His bedtime consisted of mostly lullabies instead of books!
His musical connections continued as a child when he was forced to deal with a severe speech impediment and during speech therapy, he worked with a speech therapist: who also was a trained opera singer. His speech therapist taught young "Richee" how to speak by teaching him how to sing. Through singing, he formed the muscles and control to learn how to speak properly without a lisp or stutter.
Rich's passion for singing continued through school: as he sang with his school choirs in elementary, middle, high school and college! Singing became his superpower!
Little Richee's love for music didn't stop there, at nine years old he discovered rock and roll and decided he was going to be a rock star! In time, Rich developed a love for drumming: from playing on a bucket drum while a family friend played guitar and then when he got his first drum set at 14 years old.
Rockit Richee continues to play the drums and has taken a passion for playing the guitar: which has inspired him to write children's music!
Before creating his business Rockit Richee: Rich worked as an Early Childhood Educator for 8 years: 7 years as an Infant to Pre-Kindergarten Teacher in both public schools, private pre-schools, and even 1 year as a Kindergarten Teacher in Denver Public Schools. Rich has also worked as a professional stage actor, musician, cook and theatre teacher!
2004
Rockit Richee moved to Denver as a Theatre Actor/Singer
2005
Rockit Richee started to teach himself how to play the guitar
2008
Rockit Richee enrolled in a Metro State University to earn a teaching license in Early Childhood Education/Human Development

2008
Rockit Richee started teaching!
2011
He finished licensure program

2012
Realized his Guitar was a great tool for his classroom!
2016
Started writing children's music and harnessing his super powers as an Early Childhood Music Educator/Business Owner.

2017
Changed his business name to: Rockit Richee and recorded an album of original children's music in September at Green Door recording studios.
2018
Released "When I Grow up," Rockit Richee's Debut Album!

2018
Rockit Richee was an exhibitor for 3 education conferences.
Be A RockStar For Your Kids By Bringing Rockit Richee To Your School Or Party!