Rockit Richee Concerts & Music Classes
Rockit Richee believes his gift is to give young children and families a spark of passion for music that will ignite into a lifetime of musical learning. He believes in a hands-on learning environment where children and families get the chance to touch, play and explore musical instruments together!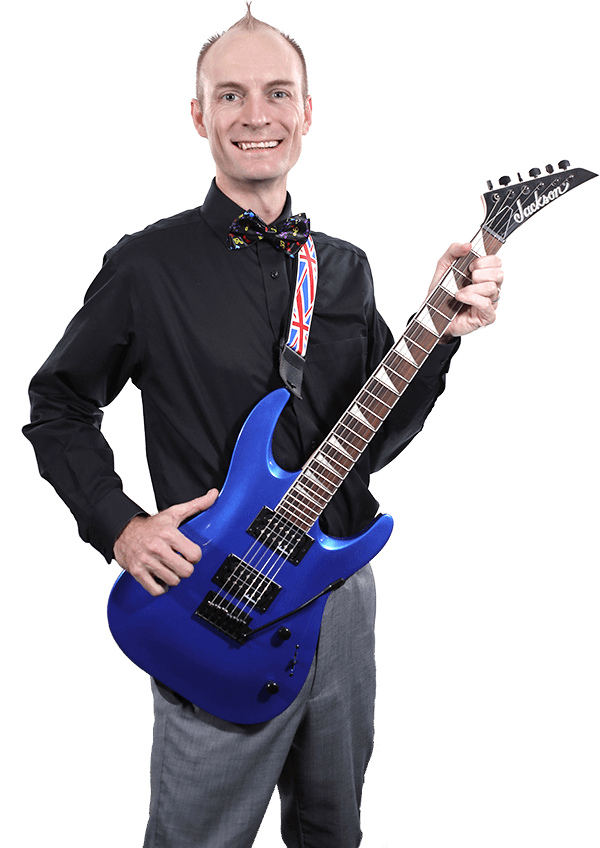 Children's Music Educator
Be A Rockstar & Bring Rockit Richee To Your School Or Party
Ages 3 months to 3 years old
Rocking with the Babies is a 20 minute class that focuses on playing familiar music in a live setting on guitar to build music engagement for babies and toddlers. In Rockit Richee's infant class, even the youngest learners will get the chance to dance, shake, pat and crawl on musical instruments: such as maracas, tambourines and hand drums.
Grooving & Moving W/ The Kindies!
Ages 3 years old to 6 years old
Grooving & Moving w/ the Kindies is a 20-30 minute class focusing on early musical engagement through singing, dancing and playing percussion instruments. Students will learn to work together and learn musical terms such as piano, forte, adagio, allegro, and presto!
Guest Music Teacher For A Day
Bring Rockit Richee into your school all day as a guest Music Teacher! He will work with your current music teacher or classroom teacher to provide a series of classes for each age/grade level that is themed based on the school's curriculum. As a guest Teacher, Rockit Richee enjoys bringing in his plethora of instruments for students to engage into with hands-on learning. "Lots of vocabulary words, lots of learning, lots of fun and a bit of noise." Quote by Rockit Richee
A Rockit Richee Live concert includes a 30 to 45-minute long mix of high energy music in the gym, auditorium classroom, home or park. All ages are welcomed!
Each concert will include a combination of original music and traditional children's music all accompanied by guitar and percussion!
Rockit Richee Live concerts are all custom per each event, taking in consideration: size of the audience, size of space, the age range of audience, individual needs of the audience and purpose of event or party. Rockit Richee will even learn 1 New Song for your party, no extra charge.
Rockit Richee will provide all musical and technical equipment needed to perform each concert unless otherwise planned. This may consist of: Guitars, tambourines, maracas, drums, microphones, microphone stands, cables and a small P.A.
Rockit Richee's Playlist
The Music Rockit Richee Plays
Traditional Songs / Cover Songs
Hello/Farewell Song
Twinkle twinkle little star
Abc song
Wheels on the bus
Baa baa black sheep
Old mcdonald
You are my sunshine
3 little birds
One Love
Under the sea
What a wonderful world
Don't Worry be Happy
Muffin man
Itsy bitsy spider
I'm a little Teapot
Humpty dumpty
Five little monkeys jumping
on the bed
She's coming around the mountain
Here they come…dinosaur song
5 little ducks
Original Children's Songs by Rockit Richee
When I Grow Up
Rocketship
Fruit & Veggie Rap
Color Rock Dance
Dinosaur Show
Honey Bee
The Rhyming Song
Piano & Forte
Jungle O Jazz
Happy Friends
A backwards C's
A Modern Pirate
The Falling Snow
Everybody Jump
Baby Bounce
Amazing Vikings
Steam Engine Song
….And more to come!
F.A.Q.
Frequently Asked Questions
How long does your classes go?
Classes are 20 minutes for toddlers and infants. 20-30 minutes for pre-school to kindergarten age. 30- 45 minutes for classes 6 years old and up.
Do you play all original music in your classes & concerts?
I play a blend of original music and traditional children's music and customize each class and concert based on age-range.
How many students/people can you play to?
It all depends on space. If your school or event space is large, I can play to a large audience as long as there are appropriate teacher/adult to student ratios. In a classroom space: it will vary based on available space and class size.
How long do your concerts last?
I have 2 options for concerts: 30 minutes and 45 minutes. 30 minute concerts consists of 8-10 songs and 45 minute concerts consists of 12-14 songs.
Do you perform at events outside of school?
Yes, I am available to perform at events, parties and concerts.
How far are you willing to travel to a school or event?
I am willing to travel through out the Denver Metro Area including Boulder, Aurora, Colorado Springs. If you are interested and feel you are too far away, please send me a message and I will personally contact you to discuss options.
Be A RockStar
Bring Rockit Richee To Your School Or Party!